Between managing an agile team and developing a product, it can be hard to keep track of the project's vision alongside real-time progress.
To help you stay true to the product roadmap, you need to have a source of truth that allows you to charter work and map progress on an incremental basis.
That's where the product backlog comes in.
A product backlog consists of a prioritized list of items that teams need to work on to support business goals in each sprint.
It evolves throughout the project lifecycle and as the product develops – mirroring the true nature of agile, where things are susceptible to change.
Managing it can be a challenge if you're new to agile or to project management in general.
However, if you're already using a comprehensive agile project management platform like Jira, then the good news is, backlog management is a whole lot easier.
Nevertheless, you may be struggling to build best practices that can help you manage it effectively. Fret not, you're right where you need to be. Continue reading to learn how easy it is to manage your product backlog with our guide.
Components of Jira Product Backlog
In Jira, the backlog is all set up. All you have to do is add in your issues (action items) and fill in the key fields that give each issue context and depth. Just click the Create issue button to add an item.
The great thing about Jira is that the product backlog and sprint backlog are displayed in one screen.
This improves the grooming experience as you can clearly see what your upcoming iterations will look like as you escalate issues from the product backlog to the sprint backlog.
Manage Your Jira Backlog like a Pro
Ready to supercharge your backlog management skills? Let's get started!
Step 1: Review Product Strategy and Business Goals
It's critical that your backlog is well-aligned with the roadmap. To do this, you need to review the product strategy as well as business goals that you want to achieve.
Then, ask yourself, what do you want to achieve in the upcoming sprint? From there, draw out your initiatives and place them in the backlog.
Make sure not to crowd your backlog with strategy and goals that are too far down the road. Focus on work that needs to be done in the next few sprints first.
Step 2: Break Down Big Initiatives into Smaller Units of Work
When it comes to agile product development, it's key that you break down big initiatives into units of work small enough to be completed within a sprint.
Let's say your initiative is to develop a content strategy for your upcoming marketing campaign. Breaking it down into smaller chunks of tasks will provide your team with a clear work breakdown structure (WBS) and offer transparency to your stakeholders.
Simply create a parent issue (like an epic), and then, support it with child issues made up of practical-sized deliverables.
Step 3: Set Priority Level for All Issues to Reflect Value Delivery
Consistent prioritization of backlog issues is a must. The issues with the highest value delivery should be prioritized over the others.
You can either drag and drop issues to arrange them by priority or you can set priority manually by clicking on an issue and choosing the appropriate level.
To learn how to define your own priority levels, read this.
---
To discover more grooming tips and backlog management best practices, check out our The Ultimate Guide to Jira Backlog Grooming.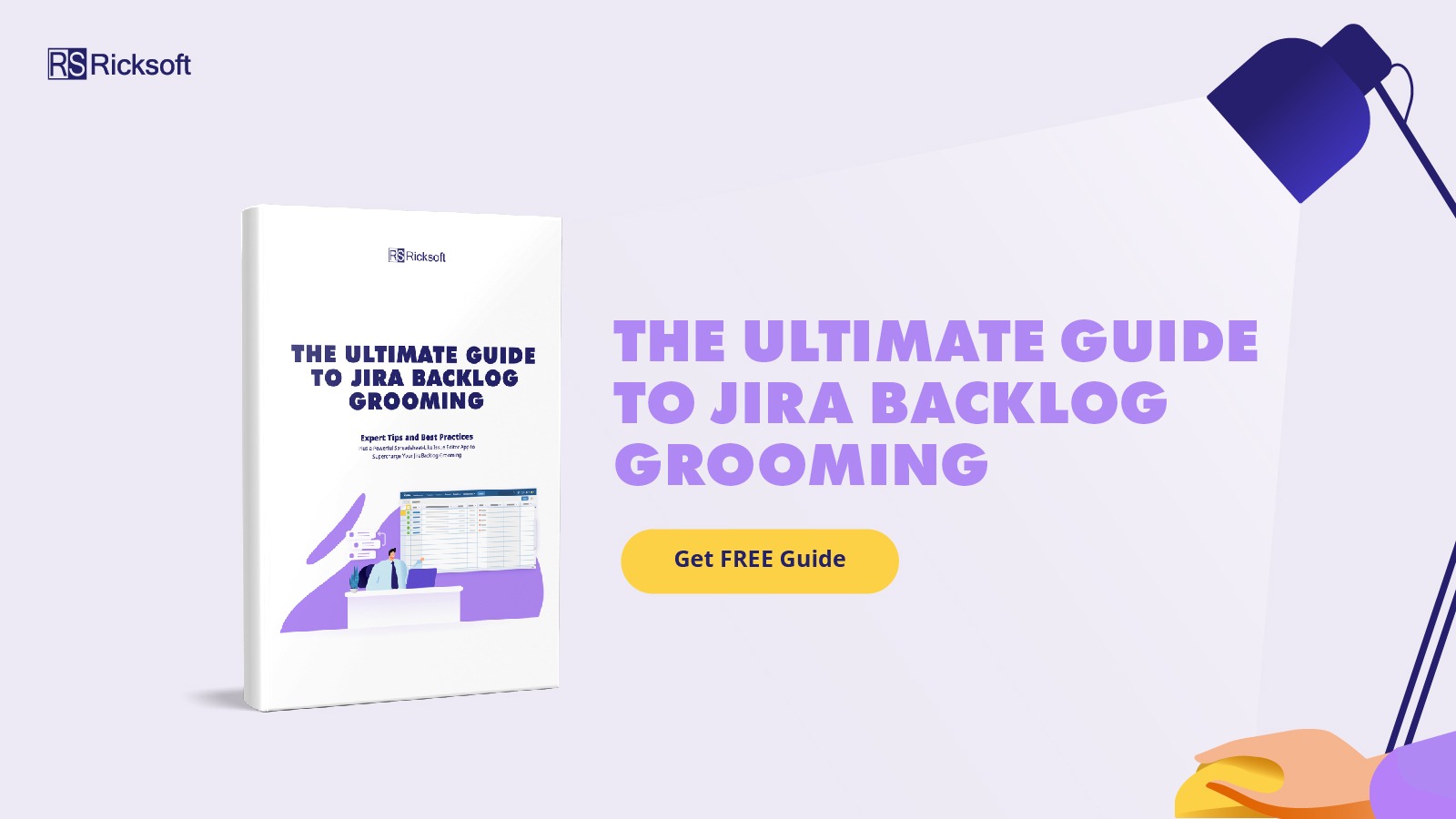 ---
Step 4: Groom the Product Backlog on a Regular Basis
Backlog grooming, or scrum refinement, is the process of reviewing your prioritized backlog issues and refining them. Once they are deemed ready for development, you move said issues to the sprint backlog.
The sprint backlog is where your team finds work that they need to complete in the upcoming iteration.
But what does "refining" your issues mean?
Reprioritizing issues, as priorities might change as iteration goals evolve
Adding estimates or story points to give "weight" to tasks
Adding context (description, instructions, due dates, etc.) for task clarity
Removing issues that are no longer relevant
Adding new issues based on stakeholders' requests and the roadmap
Defining the requirements for high-priority issues
Grooming sessions should be regulated as well. It's best to do it once every sprint, about two-thirds of the way through.
Step 5: Leverage a Backlog Management Tool to Accelerate Grooming
Grooming is actually a very important process as it helps teams define the scope of an iteration and stay on top of priorities.
But to do it effectively and efficiently each time, you need a boost in speed. Jira now offers a bulk-edit feature where you can refine multiple issues at once, but with limitations – you have to go through multiple screens to bulk-edit, and the process is painfully inefficient.
A comprehensive, enterprise-grade tool like Excel-like Issue Editor for Jira offers you the ability to bulk-edit priorities, due dates, start dates, summary, and more, of up to 10,000 issues in one screen.
To top it off, you can refine issues easily using the familiar Excel-like interface and features like Copy and Paste, Freeze Column, and Sort and Filter.
Achieve More with a Well-Managed Product Backlog
The product backlog, if managed well, can serve as a strategic guide for the team as well as stakeholders. It is also key in improving work distribution and boosting workload management across the team.
The gateway to product development excellence begins in your backlog, so supercharge your management skills today.
To learn about Jira backlog grooming, read "The Ultimate Guide to Jira Backlog Grooming."
Experience the app firsthand, here.