What sets competent project managers apart from the rest? The ability to detect early warning signs of project failure.
Identifying early warning signs not only helps you to prevent your project from ending in failure, it also improves your team's agility and adaptability, and stops your resources from going to waste.
On top of that, it helps you see ahead of blockers, improve your processes, and assess risks effectively.
But how can you detect early warning signs? What are some key early warning signs that should be top of mind? And more importantly, how can you resolve them?
Continue reading to get all the answers.
Detecting the Early Warning Signs
Being able to detect the early warning signs isn't a complicated task. You can sense if a project is failing at very early stages, but you can only see success at project completion.
It all depends on your planning capabilities and project management skills. Understanding the critical requirements for project success help project managers gauge a clear sense of factors that could disrupt you and your team from meeting your goals.
If you properly plan out your project, establish a clear baseline, and have an appropriate framework in place, you're already halfway there. According to The Pulse, high-performing businesses that implement proven project management practices meet their original goals 2.5 times more often.
But failures can still happen if you're not alert enough. So, what are some key early warning signs of project failure that you should take note of?
Early Warning Signs You Should Know and the Solutions
Below are some key early warning signs that will help you get ahead of project failure possibilities.
Unclear Project Definition
Some project managers jumpstart a project before it's clearly defined. Having a set of objectives alone is not a true mark of readiness if you're missing out on other key components like a well-developed roadmap.
Here are some key questions that would help you assess how clearly defined your project is:
Does my project have structure, milestones, and frameworks?
Do I have enough resources that can stretch out through the entire project?
Do I have a way to measure my project's achievements?
Do I have a reasonable timeline set up for this project?
If you answer "No," to any one of the questions above, then your project is not clearly defined.
Solution: Back to the Drawing Board
The first step is to make sure that you have a solid project management system that can help you meet the above requirements.
Jira, for instance, is one of the most proficient project management tools that you can adopt to help you establish a project structure, manage your resources, lay out a timeline, define your success metrics, develop milestones, and more, all using a single platform.
If you're not using a platform, you can still meet the requirements above by refining your planning processes and making sure that you document all the critical components that make up your project.
Poor Communication Across the Team
This is one of the most glaring signs that you should be aware of – teams communicating ineffectively as well as a lack of transparency throughout project-related discussions. Do note that poor communication can also be a result of a poorly defined project.
When this happens, it indicates that your teams are operating in silos, and are not aligned with the project milestones.
Solution: Foster an Open and Healthy Communication Environment
Communication is key to project success – that is an undeniable fact. Now, with remote working arrangements, it's essential that you create and foster an open communication environment so that your teams can always inform you of blockers, needs, and action plans.
To ensure transparency, make sure that everyone directs project-related discussions where they do work – like on Jira.
Constant Change of Project Scope
In agile project management, change is inevitable. The whole point is to allow you to respond to new requirements and have greater flexibility during project execution to ensure highest value delivery.
However, not all forms of change should be embraced. Problems and blockers arise when you make changes constantly without proper evaluation and risk assessment. Ultimately, this will lead to scope creep.
Solution: Assess the Need for Change
The best way to avoid constant scope creep and unnecessary risks is to assess the need for change in the first place. Understandably, requests for change sometimes come from stakeholders themselves, so PMs must learn to say no.
Refer to your roadmap consistently before agreeing to change.
Poor Task Prioritization
If everything is considered an urgent deliverable or all tasks have a default priority level (medium) set, then you have a prioritization issue. This is a critical early warning sign that reflects ineffective backlog management, poor workload distribution, poor resource management, and misaligned project milestones.
Solution: Improve Backlog Management
Backlog management is something that's often ignored because of the lack of awareness around it and the misconception that it's a tedious task.
In truth, backlog grooming is actually a very manageable and necessary task. It helps you prioritize your tasks effectively and improve workload distribution.
One of the best ways to manage your priorities is to visualize your project development tasks on a Gantt chart. If you're on Jira, you can expand the capabilities of the tool by leveraging a comprehensive Gantt chart app like WBS Gantt Chart for Jira.
The app can help you visualize your project milestones and help break down your tasks clearly. You can see priorities clearly and distribute workload appropriately.
Lack of Project Overview, Control, and Monitoring
Last but not least, if you run your project with little to no overview, control, and monitoring, then you're headed towards failure. A lot of PMs might think that constantly tracking project progress can come off as micromanaging, but there's actually a clear difference between the two.
When you don't have an extensive overview and monitoring system of your project, it means that you have no control over the course of project direction.
Solution: Strategize Your Project Tracking and Monitoring
Traditional Gantt chart has always been central to project control and monitoring. But relying on Excel to develop your Gantt chart is a tedious manual process.
Making changes and adjustments would also mean you have to update relevant documentation related to project development, and you would not have a clear overview since you have to switch between screens a lot.
When you use WBS Gantt Chart for Jira, then all the changes you make on the chart will automatically reflect in Jira. The simple interface also allows you to make changes easily and efficiently.
---
Good project management is about dealing with issues as soon as they become apparent. To learn you can better do this, we invite you to read our Jira Project Monitoring and Control: A Comprehensive Guide e-book!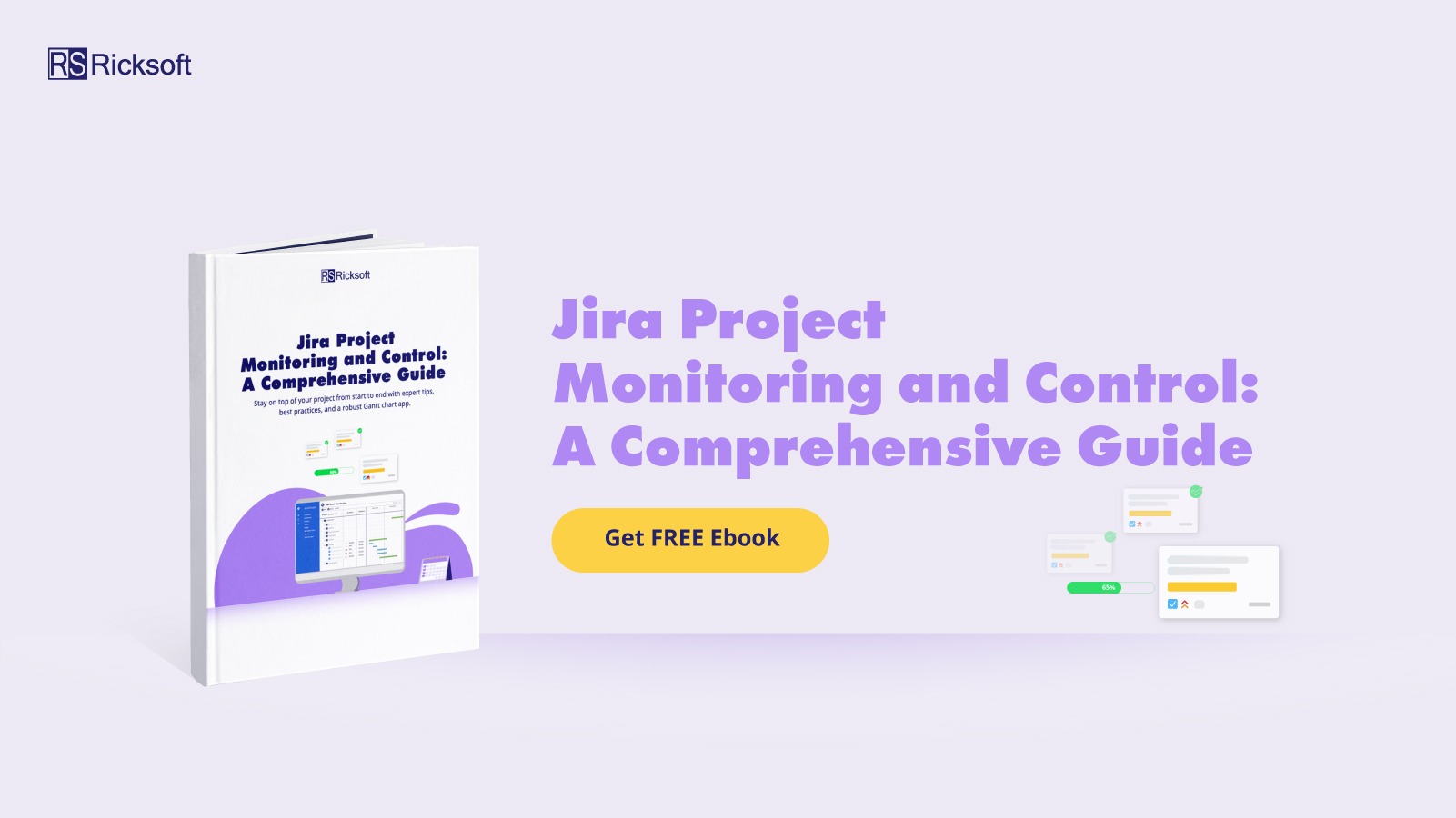 ---
Achieve Project Success Today
The only thing stopping you from meeting your project objectives successfully and improving your overall project management processes is the lack of effective capabilities and solutions. Try out WBS Gantt Chart for Jira for free today. You can also read our free guide and e-book to gain a firmer understanding of project monitoring and controlling when it comes to dealing with warning signs!