Reporting is an instrumental part of project management. Agile teams especially rely on consistent and efficient reporting to help them convey the incremental value they deliver to stakeholders.
That's not all; reporting itself is central to the success of a project – but how so?
Well, for one, reports can be used to capture real-time project performance data and communicate progress to everyone on the team. They can also be used to track work, provide valuable insights, and more importantly, push teams to be more data driven.
In Jira, teams can easily manipulate the platform's dashboard features to generate a range of reports. However, the types of reporting capabilities that Jira has are limited and actually pretty basic. As a result, a lot of project managers are forced to turn to Microsoft Excel to fulfil their reporting needs.
In this article, we'll briefly explore different reporting needs, and review top Atlassian reporting apps that you can consider leveraging.
Project Reporting Needs
As mentioned above, Jira's native environment can't meet the different reporting needs that project managers have. This isn't ideal as reporting is a prominent and continuous process for agile teams and having to switch between Jira and Excel (or other external reporting tools) will just create inefficiency.
Before going any further, let's quickly review some common types of project reports.
Baseline report
Resource availability or workload report
Risk assessment report
Expense report
Project status report
Sprint health report
Time tracking report
Of course, there are various other types of reports; it all depends on the nature of your project and your reporting needs.
While Jira offers gadgets that produce a few of the reports above, components like baseline and expense reporting are not available. As for the other types, like risk assessment, the reporting capacity may not be as extensive as you'd hoped.
Thankfully, there are a number of Jira reporting apps that not only complement Jira's native capabilities, but also meet your various reporting needs.
Best Jira Reporting Apps
Below are some of the best reporting apps in the Atlassian Marketplace. They will be reviewed in terms of feature range, price, and hosting capabilities.
Performance Objectives: Charts & Reports
If your goal is to track and report employee and company goals, then this app would be a great fit. Performance Objectives: Charts & Reports helps you achieve clear KPI, SLA, and OKR reporting, which would help in establishing objective recognition of team and individual performance. There are ten dashboard gadgets and thirteen key functionalities that this app offers to support various reporting metrics and parameters.
Do note that the reporting capabilities of this app are very specific to goal tracking and performance benchmarking. If your needs extend beyond this, then you might need an additional app.
Price: USD 500.00 a year for a team of 50 on both cloud and data center. Pricing differs based on team size.
Hosting capability: Cloud, data center, server.
Timesheet Reports & Gadgets
If extensive, custom time reporting is a capability that you're looking for then, Timesheet Reports and Gadgets would be a great fit for you. The Time Report function enables you to capture and analyze users' workload by displaying summaries of worked hours in Jira.
On the other hand, the Project Pivot Report function summarizes the worked hours in a project for a certain period. You can gain insights into all Jira issues alongside the ability to pivot data to see all completed work.
Price: USD 300.00 a year for a team of 50 on cloud and USD 500.00 for data center. Pricing differs based on team size.
Hosting capability: Cloud, data center, server.
WBS Gantt-Chart for Jira
Gantt charts are one of the most sought-after tools for visual project reporting. With WBS Gantt-Chart for Jira, you no longer need to switch between Jira and Excel to gain a holistic view of your project and its timeline. You can create Gantt charts for one or more projects (or from a filter), and view dependencies, track ongoing work, and benchmark progress against your baseline.
With an intuitive user interface, you can make changes and capture performance data quickly without having to export your data to Excel along with other features:
Critical path view
Smart workload allocation
Resource monitoring
4 types of task links
Auto-calculated project progress
Delayed task alerts
Despite costing a bit more than other reporting apps, it's one of the most proficient and comprehensive Gantt chart tools in the market. Plus, it's totally free for a team of 10.
Price: USD 625.00 a year for a team of 50 on cloud and USD 700.00 for data center. Pricing differs based on team size.
Hosting capability: Cloud, data center, server.
Structure.Gantt – Planning at Scale
Like WBS Gantt-Chart for Jira, Structure.Gantt also offers a classic Gantt view of your project plan, with real-time updates when you make changes in Jira. The app not only allows you to visualize your Jira projects or project portfolios, but also supports project planning, work-in-progress tracking, and visual project reporting, and makes it easy for users to plan at scale.
Do note that the app can't work on its own and requires Structure for Jira, which is sold separately. On top of that, if you're installing this on Jira cloud, key functions like baseline, task progress visualization, and resource levelling are not available.
Price: USD 400.00 a year for a team of 50 on cloud and USD 550.00 for data center. Pricing differs based on team size.
Hosting capability: Cloud, data center, server.
---
Ensuring your project stays on track isn't easy as you'll have to meticulously identify risks and blockers while responding to them accordingly. Check out our e-book to learn how you can do this.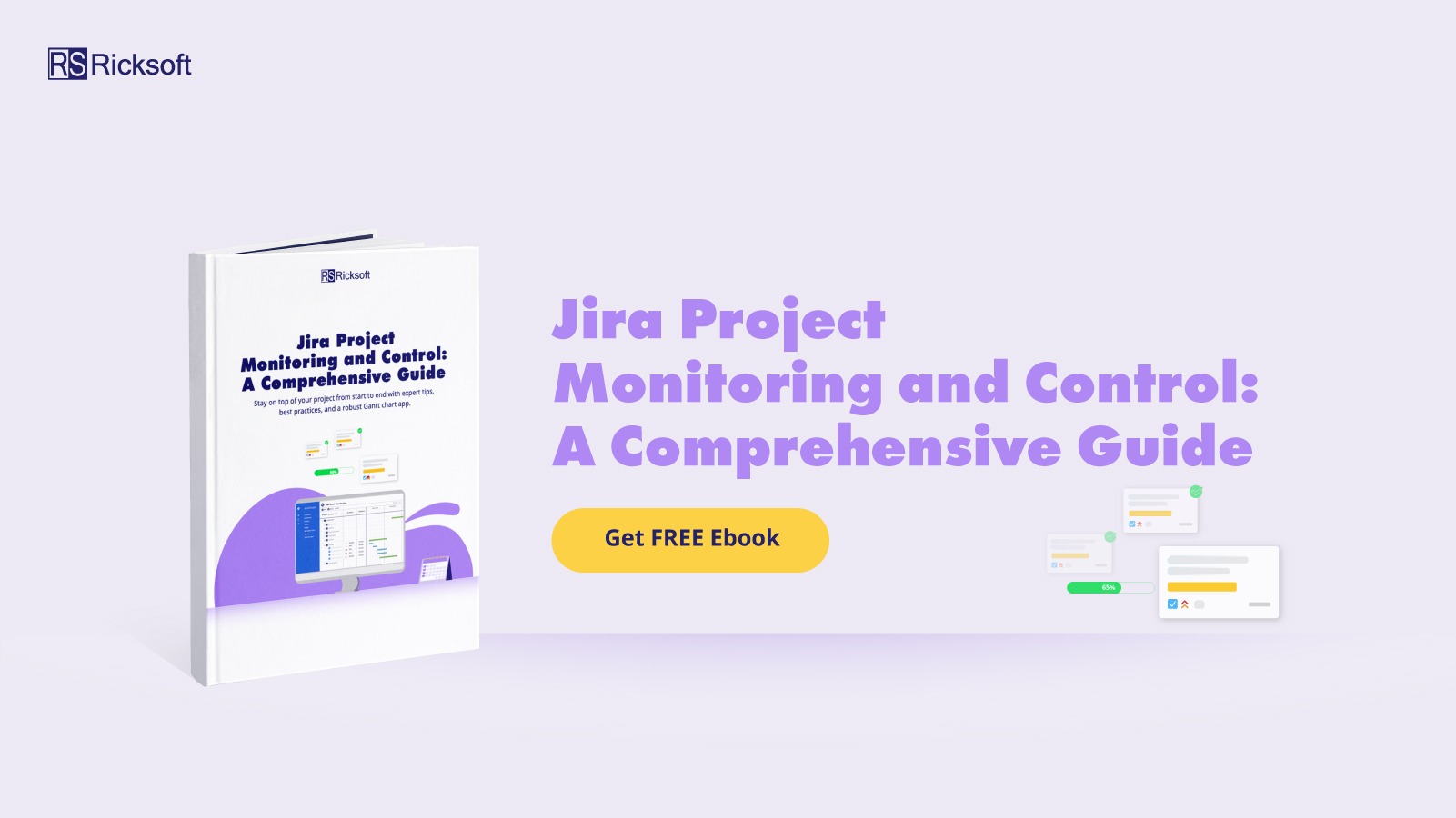 ---
Enhancing Project Management Experience in Jira
Reporting doesn't have a one-size-fits-all solution. You must evaluate your organizational needs and goals before deciding on the best app to leverage.
If you choose a more holistic solution, you can deploy it to support not only reporting, but also other aspects of project management like planning and scaling.
To support your Jira reporting needs, why not educate yourself with Ricksoft's wealth of resources? You can read our e-book and guide to start off!