Project management can seem straightforward on paper. Just ensure everything goes according to plan, right?
Unfortunately, this couldn't be further from the truth. From managing budgets to deadlines to even stakeholders, things can potentially turn sour at every corner. This is why project monitoring and control is crucial: it enables you to keep up with progress, helps you identify pressing issues, and ultimately keeps everything on track.
To aid the project manager, Jira seems a boon – it being used by over 180,000 clients globally is certainly no coincidence. Yet, it isn't always equipped with everything a PM may need. Jira doesn't tell you what to monitor nor does it allow you to keep track of budgets for instance.
Below, we'll go through key aspects and techniques every PM should know to keep a reign on their projects and will then suggest helpful tools to enhance your Jira experience.
Top Three Project Management Aspects to Monitor and Control
As listing all the techniques a PM may need for their Jira project management would be too lengthy, we've written what we believe are the most important below.
Budget
Money is the lifeline of projects as going beyond a budget often leads to failure. Consider this statistic: only 36% of projects are ever delivered on budget. We think this is all the more reason for any PM to pay serious attention to it. Proper budgeting will not just help you keep your project within a budget. It'll let you assess whether finances are being used appropriately, avoid shortfalls, and guarantees you deliver according to established expectations.
Deadlines
Along with money, time is another vital resource that must be managed. Setting deadlines will create a sense of direction and urgency for your team to complete certain tasks. That said, you'll have to set realistic deadlines and keep track of progress methodically, something Jira excels at with the help of tools like WBS Gantt-Chart for Jira.
Milestones
Often complementing deadlines, milestones are a great tool both to break a lengthy project into bite-sized phases and to set markers that serve as guideposts, paving the way towards project completion. This aids you and your team in estimating timelines and keeps your stakeholders in the know throughout the duration of your project.
Top Techniques for Effective Jira Project Monitoring and Control
While there are countless tools in the Atlassian ecosystem, here are three of our favorites that'll take any PM's Jira project management experience to the next level.
Status Updates
Status updates are imperative when it comes to keeping everyone on the same page. They'll provide workflow transparency for the team, help you keep your finger on your project's pulse and effectively monitor progress. Just be sure to schedule updates on a regular basis (e.g. weekly). Now, if you're in a scrum team, you can use daily standups to monitor project progress for this. Conversely, if you're in a Kanban team, a Kanban board's work-in-progress (WIP) will be your go-to tool.
Clear Communication
Similar to status updates, clear communication within the team is crucial. You can do this by requesting everyone set a profile picture that can add an element of human touch and ensuring you notify team members with the "@[Username]" function when needed. Even remembering to change the issue status to "Done" once complete can also help with this. This all may seem trivial, but trust us when we say this goes a long way in minimizing miscommunication.
Ensure Everyone Sees Eye-to-Eye
Midway through any project, the worst thing a PM can experience is realizing that a member doesn't fully understand what's going on. PMs are only as strong as their weakest link, so ensuring everyone understands the ins and outs of the project is critical. You can conduct a 5 Whys Analysis for this that'll require you and your team to work together to form an in-depth understanding of whatever problem your project is tackling.
---
Project monitoring and control are so much more than just a routine process. It's an art that can take a lifetime to master. To kickstart your learning, you can read our Jira Project Monitoring and Control: A Comprehensive Guide e-book!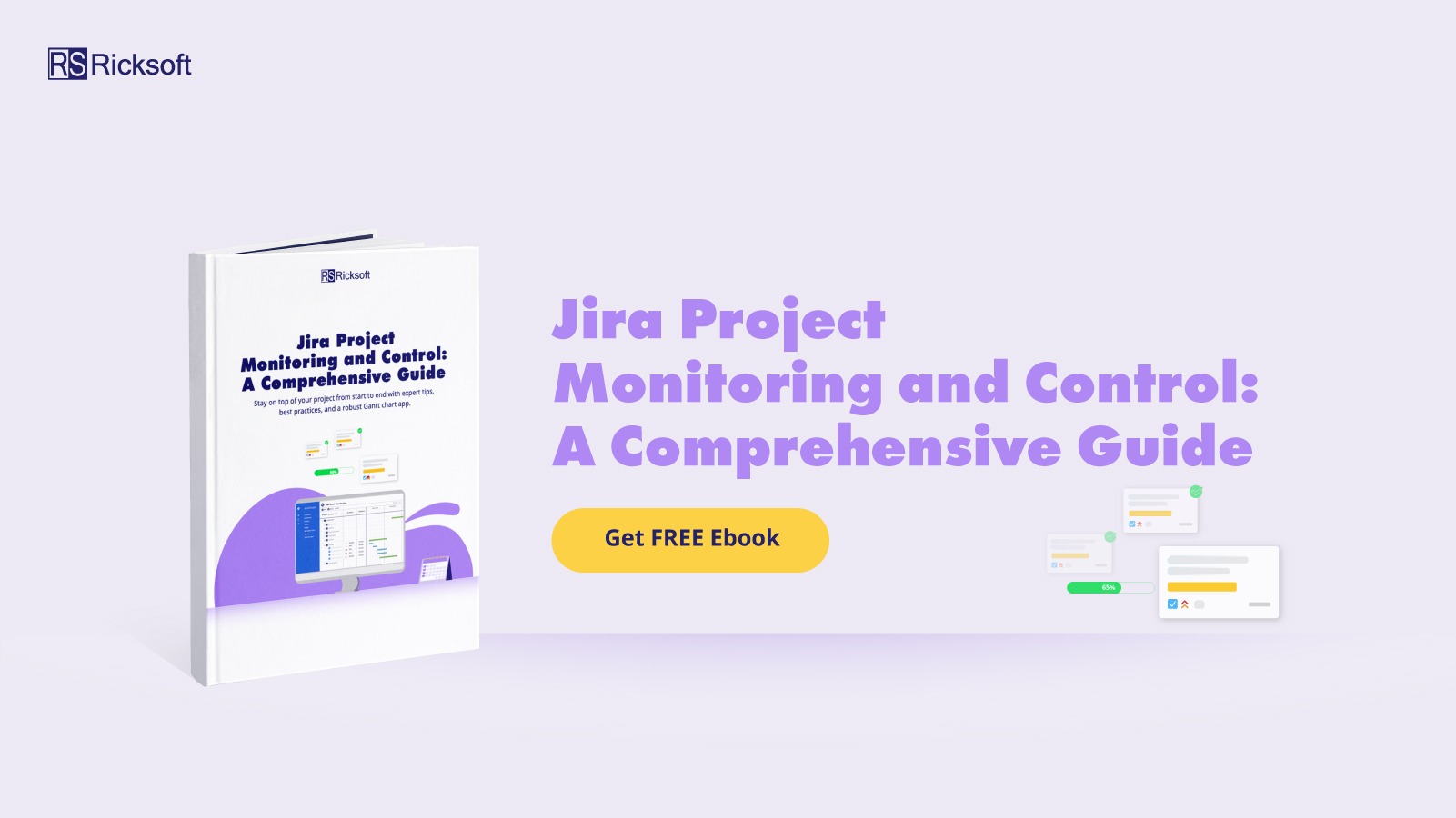 ---
Top Tools For Project Monitoring and Control
While there are countless tools in the Atlassian ecosystem, here are three of our favorites that'll take any PM's Jira project management experience to the next level.
The WBS Gantt-Chart brings one of the most powerful project management features to Jira: Gantt charts. With its easy-to-read interface and drag-and-drop simplicity, using it couldn't be more intuitive. Our flagship app enables PMs to introduce a greater element of transparency and clarity to their projects. It achieves this through visualizing progress, setting milestones and deadlines, assigning team members to tasks, and creating dependencies between tasks, to name a few. Among its features, the critical path view may be the most helpful. Critical paths are a set of dependencies that must be completed for the project to succeed, and with the WBS Gantt-Chart, you'll be able to constantly monitor this and decide which tasks should be prioritized and which shouldn't, without causing delays. Learn more about how to harness Gantt charts in our guide and e-book!
Another handy and affordable tool for real-time budgeting is Tempo Budgets. Here, PMs can ensure their projects stay within a target budget thanks to its arsenal of in-depth analytical features. This includes real-time visualizations, financial forecasts, wage management, and even integration with other Tempo products such as Tempo Timesheets. We do stress, though, that this is a powerful yet complex tool that can easily overwhelm PMs who aren't ready to dedicate time to learning how to use it.
TMetric is a nifty product that provides simple and useful time-tracking abilities for your Jira project. It lets you meticulously track how every minute is spent (or not in the case of breaks!) by your team which will help you bill more accurately, share minute updates with your clients, and ultimately allows you to identify tasks that are taking longer than anticipated. Best of all? TMetric is entirely free-to-use.
Project Management Isn't Easy
Good project management is a skill that can take a lifetime to master but it'll pay dividends in the long run. It'll make your team more effective, eliminate confusion, and help you reach your goals. That said, this doesn't mean you're alone thanks to the wealth of knowledge out there.
Try our Jira Gantt chart app today if you're curious about how deadlines and milestones can help with project management! Additionally, you can also refer to our e-books on Gantt charts and the monitoring and control process.